In a world rife with economic uncertainties, Dubai has emerged as a shining star in the realm of logistics. The emirate has shown remarkable resilience and growth, defying the odds and cementing its position as a leading global centre for trade and commerce.
Recent accolades, including the UAE's recognition as one of the top 12 countries in the World Bank's Logistics Performance Index and its ranking as the leading emerging market in the Middle East and Africa according to Kearney's 2023 Foreign Direct Investment Confidence Index, serve as testaments to Dubai's ascendancy in the supply chain industry.
Bolstering this success story, according to World Trade Organisation, Dubai's trade in good passed $1 trillion in 2022, propelled by increased exports and imports due to surging crude oil prices. This has laid firm foundations for sustained economic prosperity in the years to come as the government pushes to continue its trajectory. The D33 agenda — Dubai's ambitious plan to double the size of its economy by 2033 — is gaining momentum, and every single player in the emirate has a role to play.
There is no time for complacency in the supply chain industry. Amid cutthroat competition and a tumultuous geopolitical landscape, cargo owners demand ever-greater simplicity and control, laser-focused on enhancing cost efficiency and fortifying their operations against challenging economic headwinds. Our Trade In Transition Report, jointly launched with the Economist Impact at the World Economic Forum in Davos earlier this year, reinforces the urgency of addressing these concerns.
Not surprisingly, businesses in this region, mirroring their global counterparts, grapple with mounting inflationary pressures, soaring energy and food costs, and the spectre of economic recessions in key markets. These multifaceted challenges reverberate throughout the supply chain, profoundly impacting the movement of goods.
Amid the chaos, Dubai has steadfastly maintained an unbroken stream of trade, a testament to its resilience as a preeminent logistics hub. This requires nurturing the logistics industry and embracing cutting-edge tools and technologies that can meet the breakneck pace of commerce.
At the forefront is Jebel Ali Free Zone (Jafza), the world's largest free zone, home to a staggering 9,500 companies. Jafza has played a pivotal role in propelling total Dubai trade — imports, exports and re-exports — to nearly $345 billion.
With an unwavering commitment to creating integrated end-to-end logistics services, Jafza exemplifies forward-thinking. Boasting a slew of forthcoming initiatives, the free zone anticipates a future defined by enhanced supply chain efficiencies, expanded market access, and prosperity for all stakeholders.
Recognising the potential unleashed by digitalisation, Jafza has successfully leveraged technology to provide real-time visibility on cargo, automate critical processes, and eradicate archaic bottlenecks. CARGOES, our suite of software solutions automate key processes at every stage of the supply chain, yielded substantial results. At Jebel Ali's it has boosted throughput by a CAGR of two per cent after the pandemic.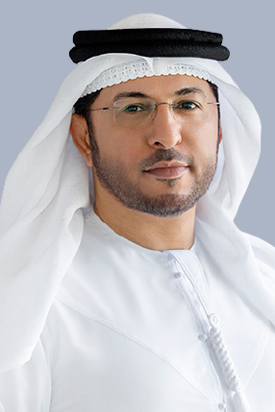 Abdulla Bin Damithan, CEO and Managing Director of DP World UAE & Jafza.— Supplied photo
Moreover, investments in advanced technologies, such as the solar-powered automated high bay storage system, BoxBay, and electric cranes, have revolutionised operations, ensuring maximum efficiency and making our solutions more sustainable.
Augmented by DP World's recent strategic acquisitions of companies like Imperial, syncreon, and Unico, Dubai's logistics landscape is expanding, fostering collaboration and accessibility. Crucially, these innovative solutions are agile, diversifying logistical capabilities and empowering businesses to safeguard against future market instabilities.
Today, Dubai boasts the infrastructure to navigate any circumstance and adapt operations accordingly, ensuring resilience in the face of market fluctuations. DP World's forward-looking innovations propel the logistics industry beyond mere port operations, offering end-to-end supply chain solutions, from factory floor to customer door.
However, the journey toward a fully digitalised logistics infrastructure demands collective action and collaboration. For Dubai to achieve its D33 goals and reinforce its status as a world-leading trade center, seamless cooperation within the logistics industry is indispensable. Jafza's robust infrastructure has already bolstered investor confidence, attracting long-term businesses and creating a sustainable future-proofed network.
Recent free trade agreements between the UAE and countries like India, Indonesia, Israel, Turkiye, Cambodia, and Georgia mark just the beginning of a new era, where digitalisation and partnerships unlock uncharted opportunities and extend market reach. Furthermore, Dubai's trade bridge initiatives, exemplified by the India-UAE Bridge, combine assets and capabilities to deliver enhanced trade value and operational efficiency.
Years of experience have provided invaluable insights, shaping the future of the logistics industry. By embracing transparency, data-driven decision-making, and sustainable practices, global logistics can maximise end-to-end efficiency, unlock new opportunities, and foster cleaner supply chains.
As we navigate an increasingly interconnected world, the power of collaboration and digitalisation will determine the industry's trajectory. By seizing this transformative potential, we can forge a prosperous and sustainable future for Dubai's logistics industry and beyond.
Source : khaleejtimes