Huangpu, China continued to have the highest Container Availability Index (CAx) value in October, followed by Memphis and Dallas, according to data released by Container xChange, an independent marketplace for container leasing and trading.
High CAx values, exceeding 0.90, implies that outbound containers are lesser than inbound containers. Chicago, Chittagong, Savannah, Dammam, Manila, Southampton and Sines were the other ports that reported high CAx values.
All the top five ports reporting low CAx were in China – Jinzhou, Shekou, Ningbo, Yantian and Yingkou – because these ports have been exporting a large number of containers for a prolonged period.
Container prices drop in India, availability an issue
The average price for a 40HC container dropped from $5,700 in September to $5,400 in October in Chennai. For 20DC, the average price was $2,358 and it was $4,500 for 40DC.
In Nhava Sheva, the average price for a 40HC was $4,880 and $2,362 for 2DC.
The general trend from the beginning of the year till date across the ports of Chennai and Nhava Sheva is a gradual increase in container trading prices.
Container availability has been an issue across Nhava/Chennai ports with CAx of close to 0.8 for both 20DC and 40 DC.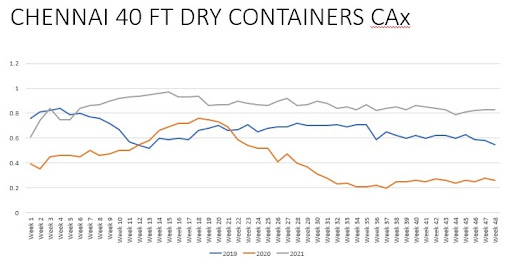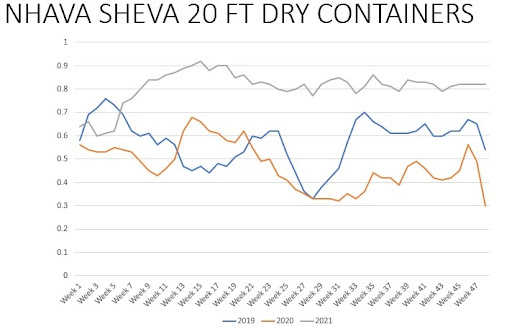 Prices decline in China
Average container prices declined for the first time in China this year soon after the Golden Week. "Prior to October, you had to pay more than $8,000, on average, for a 40HC. Now, you can get your hands on the high cube for around $6,500," the report said.
20DC prices saw a dip at the start of the month but have since increased around 8 percent at major Chinese ports.
While the most expensive ports for 20DC included Warsaw ($3,207) and Hamburg ($3,203), Karachi ($2,175) and Houston ($2,163) were among the cheapest ports.
Ningbo ($6,391) and Tianjin ($6,250) were the most expensive for 40HC containers. Barcelona ($3,973) and Chicago ($3,662) were among the cheapest ports for 40HC containers.
"October witnessed, for the first time, a dip in container prices soon after the Golden Week, " said Johannes Schlingemeier, co-founder and CEO, Container xChange. "The bigger part of the worry is the arriving ports where reports suggest that the congestion doesn't seem to ease. We will continue to monitor the situation but our data shows that the overall situation has not shown any sign of red flag in the month gone by. From a more macro-level, container prices and pickup charges are several times expensive than it was pre-pandemic and the logjam is still unmanageable. The industry is still sorely crippled."
Co-founder and CEO Christian Roeloffs added that though close to 46 ports witnessed decline in average container prices, the industry is yet to recover from the stratospheric disruptions. "Based on our platform data and interaction with our customers, we foresee a true revival of the supply chain only by the end of next year. As for the peak season, demand continues to be strong with a deficit of supply. End consumers could be prepared to witness limited products on the shelf."
Source : ITLN