Denmark-based container carrier A.P.Moller-Maersk is offering six standard products for the 2022 tender season: Flat, Seasonal Preset, Seasonal Sync ( traditional ocean contract products) and Block Space, Flexible, and Unlimited ( partnership products).
Flat contract reserves space for cargo following a set schedule i.e a set number of containers per lane, every week at competitive rates. "This contract is available for both dry and refrigerated cargo transport needs." an official statement said.
Seasonal sync contract is ideal for production-driven supply chains that have a need to synchronise allocation with production fluctuations. Seasonal reset contracts are designed for import-driven supply chains that have to deal with strong seasonalities.
"We see a significant increase, for example, in some of our smaller customers choosing to customise solutions by combining Less-than-Container Load (LCL) shipments together with Full Container Load (FCL) ones in our contract as it provides flexibility and ease of business for them," said Johan Sigsgaard, Head of Ocean Products, Maersk.
Lars Jansen, a leading expert in the container shipping industry, said in his LinkedIn post: "Conceptually nothing here should be surprising and, quite frankly, the industry ought to be moving in a similar direction. What I am seeing here is essentially a drive towards more predictable contractual terms which some shippers might see as an advantage and others as a loss of flexibility.
"In terms of timing, pushing through changes from a position of strength (which the carriers most certainly have now) will inherently lead to a higher success ratio than under more normal market circumstances."
Jensen added that the crux will come once the market normalises in the pre-pandemic period "and we will see how much of the change can be sustained under more normal circumstances."
An official had earlier told ITLN that 60 percent of new contracts are long-term deals unlike the earlier short-term contracts.
Maersk had reported a 68 percent increase in Q3 revenue to $16.6 billion while EBIT was up almost five times to $ 5.9 billion on high freight rates in an exceptional market situation. Maersk has maintained its 2021 profit outlook at the earlier estimate of $18 billion-$19 billion.
Container prices decline but freight rates steady/inching up
Container prices declined across major ports in the U.S, China and Europe from August to November.
"Over the last two quarters, the industry has faced skyrocketing container prices," said Container xChange Co-founder Johannes Schlingmeier. "These increases first leveled off and have now started gradually decreasing. It seems, what we're seeing now, is a turning point."
Here's a look at the China market for 20DC and 40HC.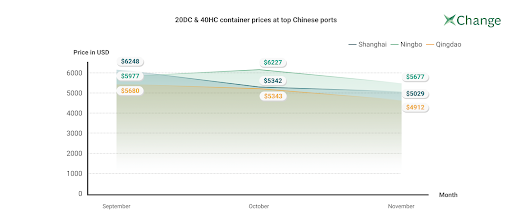 The Shanghai port saw the biggest drop – 19 percent – in average prices between September and November. At the port of Ningbo, 20DC or 40HC containers are cheaper by around $300 in November compared to September.
Ocean rates across all major lanes remained level but were still extremely elevated this week with peak season behind us and Lunar New Year two months ahead, Freightos said in an update. "Prices remain high due to sustained elevated demand – especially from Asia to the US – and the resulting port congestion."
Though the number of ships anchored off shore (LA/LB) has declined, the total number of vessels either waiting further away or en route has not fallen significantly, showing that the underlying demand remains in place, the update added.
"High rates and congestion are ultimately results of the consumer spending shift from services to goods that began early in the pandemic. So in terms of the other major development this week – the spread of the omicron variant – the new COVID strain has the potential to push the shift back to spending on services even further away."
As many as 62 percent of participants in a poll conducted by Flexport thought difficulty, cost of moving goods as major concerns for 2022.
The market's attention is firmly on two key events in China – Lunar New Year at the start of February, and the Winter Olympics in Beijing later the same month – and demand is likely to pick up again in December as shippers gear up to ship goods before the Lunar New Year, S&P Global Platts said in an update.
"For the Asia-to-Europe trade lane, sources expect prices to rise in late January as many shippers around the world look to front-load ahead of China's holiday season, to ensure shipment before this break."
Source : ITLN