Swiss shipping giant Mediterranean Shipping Company (MSC) has signed an agreement with German freight forwarder DB Schenker for the use of 12,000 metric tons of biofuel components for all of DB Schenker's consolidated cargo, less-than-container load (LCL), full-container-load (FCL) and refrigerated containers (reefer containers).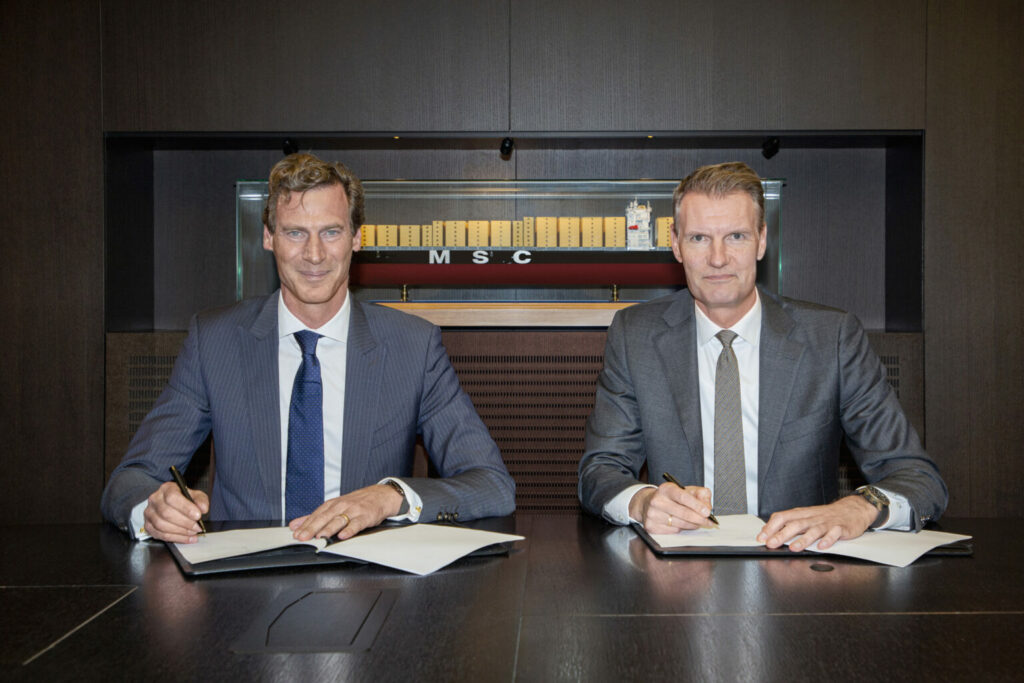 As disclosed, the deal represents a first-of-its-kind between a freight forwarder and a shipping line. The 12,000 metric tons of biofuel component will be blended between 20% and 30%, resulting in approximately 50,000 metric tons of blended biofuel to be used in MSC's container ships.
The amount of biofuel purchased is enough to save an additional 35,000 metric tons of CO2 equivalents (CO2e) along the entire production chain (well-to-wake) in the market.
The equivalent of around 30,000 standard containers (TEU) may be shipped with net-zero CO2 emissions, depending on how the fuel is used during navigation.
The agreement allows DB Schenker to offer its clients an off-the-shelf product that enables net-zero ocean transportation, according to the firm.
"Together with MSC, we are offering our customers a convenient and clean solution using the latest generation of marine biofuel to help them achieve a real additional reduction in their emissions. We are doing this because we firmly believe it is the right thing to do and are therefore paying for biofuel purchases in advance," Thorsten Meincke, Global Board Member for Air & Ocean Freight at DB Schenker stated.
"One thing is certain: the more customers demand climate neutrality throughout supply chains, the faster we achieve clean container ocean freight."
"Decarbonizing ocean freight cannot be achieved by a single player and requires collaboration between shipping and logistics companies and their customers. MSC Biofuel Solution is our first certified carbon insetting program that reduces emissions in our customers' supply chains, accelerating the energy transition by creating demand for net-zero-carbon shipping and delivering direct CO2 savings," Caroline Becquart, Senior Vice President of MSC.
Biofuel can be used for regular ocean freight operations without adjusting ship infrastructure or supply chains, making it a particularly convenient solution, according to the company. MSC bunkers sustainable biofuel and clients benefit from the CO2 savings, passing them on throughout the shipping value chain. This differentiates the program from carbon-offsetting initiatives that focus on future emission reductions outside the shipping industry.
Last year, MSC dominated the shipping industry with 124 vessels on order. The orders are spread between Chinese and South Korean shipbuilding majors.
The Swiss shipping major has been also linked to a massive order of ten liquefied natural gas (LNG)-powered containerships last month.
Source : offshore-energy