Major initiatives worth more than ₹1016 crore planned for revamp of Inland Waterways in Assam till 2024-25: Shri Sonowal.
Comprehensive package to develop NW 2 (Brahmaputra) & NW 16 (Barak) enhanced to ₹622 crore: Shri Sonowal.
To maintain fairway of waterways, a sum of ₹233 crore is set for dredging of Brahmaputra, Barak, Dhansiri & Kopili.
Ganga Vilas to open new vista for international tourism in Assam as it showcases our heritage from Dhubri to Dibrugarh; from Mayong to Majuli: Shri Sonowal.
Union Minister of Ports, Shipping & Waterways and Ayush, Shri Sarbananda Sonowal announced major initiatives planned for Assam by the Ministry of Ports, Shipping & Waterways this year for the development of inland waterways in Guwahati today. Prime Minister Shri Narendra Modi will unveil the foundation stones for two major initiatives while inaugurating Maritime Skill Centre for Northeast to ramp up capacity in Pandu port in Guwahati on January 13, 2023. The other initiatives are the Ship Repair Facility at Pandu Multi Modal terminal and an elevated road connecting with the Multi Modal Terminal at Pandu with National Highway 27 in Guwahati. The facilities are part of major initiatives planned by the Ministry of Ports, Shipping & Waterways for revamping inland waterways in Assam & the Northeast.
Union Minister also announced an investment of ₹1016 crore for the development of inland waterways in Assam for the forthcoming years. A comprehensive package to develop Brahmaputra (NW2) has now been enhanced to ₹474 crore as well as an enhanced package of ₹148 crore has been earmarked for the development of Barak river (NW 16) recently. The ministry has also approved development of Dhansiri river (NW 31) and Kopili river (NW 57). Highlighting the success of the rejuvenated waterways as an alternative conduit of logistics under the Modi government, the cargo movement in Indo Bangladesh Protocol Route (IBPR) has increased from 2.00 MT in 2014-15 to 5.43 MT in 2021-22, remarked Shri Sonowal.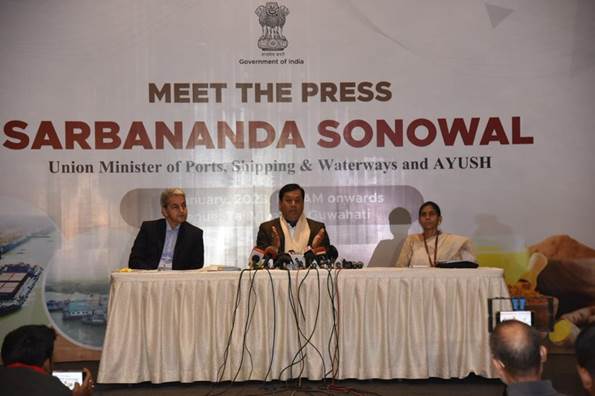 Speaking on the occasion, Shri Sonowal said, "Under the visionary leadership of Prime Minister Shri Narendra Modi ji, our Ministry has taken up major initiatives to power the waterways of the region in order to convert them as the avenues of economic progress, development & growth of the region. Be it the cargo or passenger movement via waterways, we are planning and executing policies to build capacity in the region. In this regard, the PM Modi ji will virtually unveil the foundations stones for major capacity building at Pandu port in Guwahati. We believe that this will serve as a major shot-in-the-arm for the development of the region. We believe that our commitment to harness the magnificent prowess of country's rich river system will unpack immense opportunity. We believe that the innate beauty of waterways as a sustainable, economic & swift mode of transport will make us future ready & act as the driving engine of growth of new India."
Sharing his views on the scheduled launch of Ganga Vilas world's largest river cruise from Varanasi to Dibrugarh, Union Minister added, "Ganga Vilas will open up a new vista for the tourism in the country. As the cruise will spend more than ten days in Assam, the foreign tourists will be able to explore and experience a new horizon of socio-cultural hue along the river coast. From Dhubri to Dibrugarh and from Mayong to Majuli, this cruise has curated an interesting journey where the  natural beauty of Assam will be relished. It's success has also opened a new avenue of investment in river cruise tourism in Assam. We hope that it's multiplier impact on the economy of the state will be manifold." The Ganga Vilas will stop at Dhubri, Goalpara (Jogighopa), Guwahati (Pandu),  Pobitora, Tezpur, Silghat, Nemati Ghat before anchoring at Dibrugarh (Bogibeel) in the state.
The Ship Repair facility at the Pandu Terminal will save time and money. The facility will cater the repair of vessels of IWT, Govt. of Assam, IWAI, Indian Army,  and other private operators plying in NW-2 and 16. The dedicated road connecting the Pandu Terminal with the NH27 will enable 24-hour smooth & swift connectivity making a sound business proposition for cargo operators. The Maritime Skill Centre for Northeast will be instrumental in honing our rich talent pool and acquire much valued skill sets by the candidates for better employment opportunity in the bourgeoning logistics industry.
Source : PIB